For the past four years, Luciano Laynez has done a tremendous amount of work behind the scenes organizing all the local logistics for our medical missions in Guatemala. Luciano is like a quiet machine – he just gets things done! More importantly, he has such a great heart. His compassion for the indigenous people we serve comes across in all aspects of his work. Thanks, amigo, for all you have done to support our outreach efforts! Read all about Luciano's story with Global Healthworks Foundation below.
Administrating with a Heart for the People: Luciano Laynez's Commitment to His Native Quiché
Luciano Laynez stands in his office overlooking the Centro de Paz courtyard. A stack of intake papers under his arm, he balances his cell phone in one hand and the office phone in the other. "Él próximo grupo llega a las dos (The next group arrives at two)," he says into the office line. "¿Él Internet no está funcionando? (The Internet isn't working?)" he asks the individual on the receiving end of his cell phone. "No te preocupes. Yo me encargaré de eso. (Don't worry. I'll take care of it.)" He hangs up both phones, exits his office, and heads down to the bustling jornada (medical mission) treatment space, readying himself for the next task at hand.
As Administrator for the Centro de Paz Bárbara Ford in Santa Cruz del Quiché, Guatemala, Luciano is responsible for the organization's human and financial resources, managing local logistics for Global Healthworks Foundation's (GHF's) biannual jornadas, and assisting with the coordination of GHF's weekly mobile clinics. "Luciano is like a quiet machine," describes Dan Wunderlich, GHF Founder and Executive Director, who has known Luciano since 2012. "He balances a number of responsibilities behind the scenes. He's very creative in seeking solutions, particularly in relation to finances. He knows how to make things the most cost-effective way possible."
Despite the level of pressure that often comes with the job, says Sister Virginia (Ginny) Searing, Executive Director of the Centro de Paz, Luciano is "always professional. He's representative of what an administrator should be. He is excellent at responding to organizational and staff needs, and he speaks for the association in a way that's high quality." And he's not yet thirty years old.
A Quiché native, Luciano has been working with Sister Ginny for almost ten years. Immediately after graduating high school, at just eighteen years old, he joined Sisters Ginny and Barbara Ford—for whom the Centro de Paz is named—in their work with Utz K'aslamal, a non-governmental organization focused on mental health outreach. In 2009, when the Centro de Paz opened, Luciano volunteered to help. "We were only a team of three back then," Sister Ginny says. "Within a couple days of volunteering, Luciano was hired. I trusted him, and I knew of his previous work, so I told him, 'Come and work for us. We'll find money somehow.'"
"Luciano has such a great heart. His compassion for the people we serve comes across in all aspects of his work."
They found the money and, now, five years later, Luciano remains an integral part of the Centro de Paz team. When asked what he enjoys most about his job, his response always comes back to the people of Quiché. "Hay mucha necesidad en Quiché (There is a lot of need in Quiché)," he explains. "Hay personas que están en peores circunstancias. A través de este trabajo, yo puedo contribuir a la gente—y esto es, para mí, muy importante. Es indispensable. (There are people who are in worse circumstances [than I]. Through this work, I am able to contribute to people— and this, for me, is very important. It's essential.)"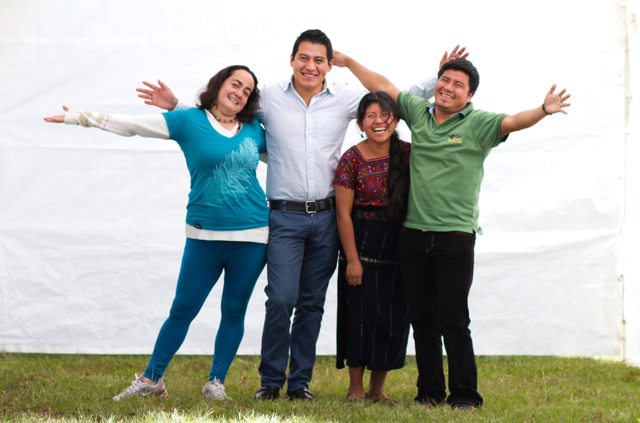 His commitment to his fellow Guatemalans, Sister Ginny says, is part of the reason she feels confident in his ability to perform his administrative responsibilities as well as act as liaison among a number of groups: the Centro's Board of Directors, donors and foundations, the Sisters of Charity—the Centro's primary supporter—the Quiché community, and, of course, Global Healthworks Foundation. "Luciano maintains our vision and mission throughout all his relationships," Sister Ginny explains. "Aside from his professional strengths and capabilities, I find Luciano is a person who is loyal and committed, and someone I am depending on to help carry the association into the future."
From observing his ability to multi-task and communicate with a variety of individuals during the jornada and his day-to-day routine, it's easy to see why she feels that way. And, it's easy to see why he and Dan work so well together—both as professional collaborators and friends. "Dan es una persona muy admirable (Dan is a very admirable person)," Luciano says. "Tiene compasión con la gente, sabe bien como resolver situaciones profesionales y personales, y promueve oportunidades para sus estudiantes. Para mí, es como un mentor. (He has compassion for people, knows how to resolve professional and personal situations well, and provides opportunities for students. For me, he is like a mentor.)"
The feeling is mutual. "Luciano has such a great heart," Dan says. "His compassion for the people we serve comes across in all aspects of his work. Since we met, I've seen him grow leaps and bounds professionally. He has a maturity beyond his years. And, outside of what he does for GHF and the Centro de Paz, we've also become really good friends. For that, I'm very grateful."
With such shared admiration and respect, the work of GHF and the Centro de Paz will undoubtedly continue to grow, with both organizations only improving upon the quality services they provide to the people of Quiché.